Time to create Rakhine as a Muslim State for Rohingyas
Prevailing World order is known for acting very fast in Muslim versus non-Muslim conflicts where outcome is likely to benefit non-Muslims. And it shows criminal negligence when Muslims are likely to gain through political settlement of any such conflict. When pushed too hard, conflict is settled in a way that it's a paralytic outcome, ensuring mitigation of equitable advantage to Muslim faction of population. Some of the conflicts like Kashmir and Palestine are deliberately kept on back burners as their settlement would benefit Muslim segment of respective population. Myanmar's Rohingya conflict also falls in "let ferment" category. Likewise is the situation about Afghan and Yemen crisis, as well as simmering Middle East and North African Muslim countries. Muslims are right to assume that current World Order has not served them a fair deal; and unless there is a significant change in its format, Muslims will continue to be marginalised at state, community and individual levels.
New York Times has reported that "first batch (out) of the 720,000 Rohingya who fled slaughter, rape and village burnings in their homeland are being forced back by Bangladesh to Myanmar. The United Nations (UN) estimates have it that at least 10,000 people were killed during ethnic cleansing, in 2017, by Myanmar military. Repatriation of Rohingyas from Bangladesh has repeatedly been delayed.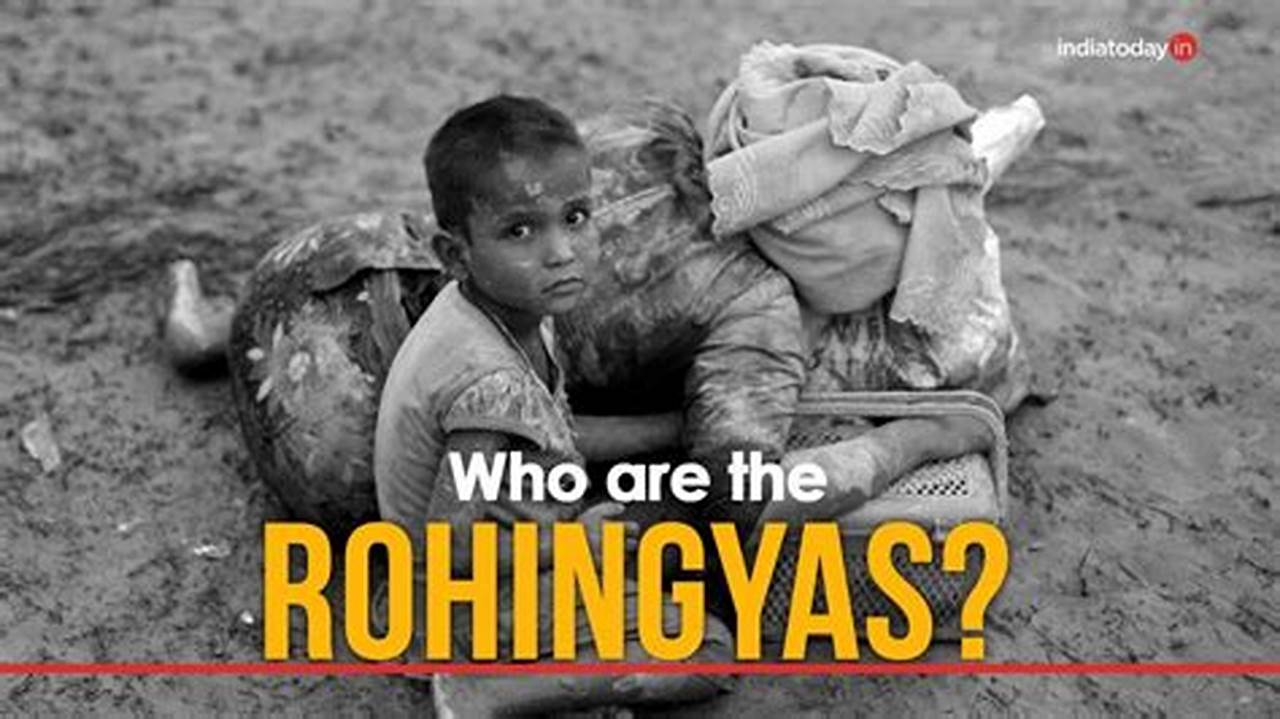 Myanmar insists that Rohingyas are interlopers from Bangladesh despite most of them living for generations in western Rakhine state of Myanmar, they have long been denied basic political rights and liberties. Bangladesh does not accept that Rohingyas have a Bengali lineage. Anthropologists believe that Rohingya roots trace back to Saudi Arabia, who migrated to Myanmar (Burma) around 7th & 8th century AC. Except Bangladesh and Myanmar who think such a return as a good idea, there are hardly any buyers of such forced eviction. United Nations doesn't want forced eviction to happen. United Nations High Commissioner for Human Rights, Michelle Bachelet, warned that forcing the first batch of about 2,200 Rohingya living in refugee camps to ground zero of mass violence against the minority Muslim group would be a "clear violation" of core international legal principles. Human Rights groups have called the move "dangerous and premature." A number of Human Rights groups say "they are shocked". Even the people who will be affected the most, Rohingya Muslims from Myanmar, are upset that their future, once again, is being decided without their input.
According to a 2018 UN inquiry, Myanmar's military killed at least 750 people in one village and at least 10,000 in its broader operations in the western state of Rakhine, where many of the country's Rohingya Muslims live. The report describes the military's brutal actions in detail, from throwing infants into a fire to systematically raping women and girls. UN report has called for constitutional changes and an overhaul of the military; it even named army officials who should stand trial.
The three-person UN panel named Myanmar's army chief, Senior General Min Aung Hlaing, as one of six top commanders who should stand trial in an international court for genocide and crimes against humanity. Voluminous 444-page report, gave details of the atrocities that drove more than 750,000 Rohingya Muslims to flee into neighbouring Bangladesh and that prompted the group to level accusations of genocide.
As usual, Myanmar has flatly denied its military had committed atrocities. It said troops were reacting to attacks by Rohingya militants on border security police and several villages. "This explanation is flawed," Marzuki Darusman, the panel's chairman, told the United Nations Human Rights Council (UNHRC). "The killing was widespread, systematic and brutal…. At the core of every incident and every human rights violation we examined was the extreme brutality of the Myanmar military…The killing of civilians of all ages, including babies, cannot be argued to be a counterterrorism measure. There can be no military imperative to rape women and girls or to burn people alive…It was a well-planned, deliberate attack on a specific civilian population."
The panel called on the United Nations Security Council (UNSC) to refer Myanmar to the International Criminal Court (ICC), or to set up an international tribunal to prosecute those, including the Army Chief, who have been identified as responsible for the violence. It also urged the Security Council to introduce an arms embargo on Myanmar and to impose targeted sanctions on individuals, including travel bans and asset freezing. Report called for an overhaul of the military and for constitutional changes to end the political dominance of generals. The panel said that military leaders should be replaced, the military placed under civilian oversight, and the generals' grip on parliament abolished. "We see accountability as essential but not sufficient," Christopher Sidoti, a member of the panel, told the rights council, urging fundamental change to Myanmar's Constitution. Ultranationalists and religious extremists had stoked racial antagonism, the panel said, demonizing the Rohingya as "Bengali" immigrants posing an existential threat to Buddhist identity in Myanmar. General Min Aung Hlaing had clearly endorsed that view. The "Bengali problem" was an "unfinished job," he said in a statement at the height of the clearance operations, the panel reported, and he added that the "government was taking great care to solve it".
Myanmar's army has used unfathomable levels of violence against minority Rohingya Muslims, UN investigators said, calling for the military to be removed from politics and top generals to be prosecuted for genocide. "It is hard to fathom the level of brutality of Tatmadaw (military) operations, [especially] its total disregard for civilian life," Marzuki Darusman told the UNHRC, referring to the Myanmar's military. Darusman said the "scale, cruelty and systematic nature of the sexual violence reveal beyond doubt that rape is used as a tactic of war."
Myanmar's ambassador to the UN, Kyaw Moe Tun, had slammed report as "one-sided" and "flawed". Myanmar's army has denied nearly all wrongdoing, insisting its campaign was justified to root out Rohingya insurgents who staged deadly raids on border posts in August 2017.
Malaysian Prime Minister Mahathir Muhammad has recently commented that he was "very disappointed" by Suu Kyi´s failure to defend the Rohingya, a stateless Muslim minority. Mahathir made his remarks just before standing alongside Suu Kyi for a stoney-faced photo shoot at the start of the ASEAN regional summit in Singapore on November 13. "Someone who has been detained before should know the sufferings and should not inflict it on the hapless," Mahathir told reporters. Malaysia appealed to Myanmar to accept Rohingya as citizens. "When Malaysia became independent in 1957, we had people of foreign origin…. but we accepted all of them," he said. "They are now citizens, they play a full role in the politics of the country, they are free they are not detained because of race or anything like that." Meanwhile, Aung San Suu Kyi´s response to the persecution of Myanmar´s Rohingya Muslims is "indefensible", Malaysia´s leader said in a withering criticism of the Nobel Peace Prize laureate shortly before sharing a stage with her.
Suu Kyi is continuously being snubbed by international community. She was stripped of Freedom of Oxford award in 2017, because of her response to the Rohingya crisis. Suu had completed her undergraduate degree at Oxford University, she was granted the honour in 1997 for her "struggle for democracy". Oxford City Council voted unanimously to support a motion that said it was "no longer appropriate" to celebrate Ms Suu Kyi, who has come under fierce criticism for inaction in the face of reported atrocities against Rohingya. Oxford's reputation is "tarnished by honouring those who turn a blind eye to violence", local councillor and Labour Party member Mary Clarkson said in a speech proposing the motion. "While the UN calls the situation a 'textbook example of ethnic cleansing', Aung San Suu Kyi denies any ethnic cleansing and dismisses numerous claims of sexual violence against Rohingya women as 'fake rape'", Ms Clarkson said. Earlier she had lost a similar Freedom award from Sheffield city council and her former college St Hugh's had removed her portrait from public display.
Canada revoked her honorary citizenship last month and the US Holocaust Museum in March took back an award named after concentration camp survivor Elie Wiesel. In the face of global ire, the Amnesty International (AI) has stripped Suu Kyi of its top award over indifference to atrocities. Amnesty's move is the latest in a string of rescinded accolades. "Today, we are profoundly dismayed that you no longer represent a symbol of hope, courage, and the undying defence of human rights," Amnesty International chief Kumi Naidoo said in a letter to Suu Kyi released by the group. Interestingly, Norway's Nobel Institute has no intention of withdrawing its Peace Prize from Suu Kyi, even after a damning UN report termed the treatment of the Rohingya people as "genocide." "There is no question of the Nobel Committee withdrawing the peace prize," director Olav Njolstad said. "The rules of the Nobel Peace Prize do not allow it," he added.
The deadly crackdown, which the government says was a response to attacks on police posts by Rohingya insurgents, has been roundly criticised by human rights groups, the United Nations, Pope Francis etc. Even Suu Kyi's 13 fellow Nobel laureates, wrote her a letter calling it "a human tragedy amounting to ethnic cleansing and crimes against humanity." She did appoint a commission led by late Kofi Annan, the former UN Secretary General, to examine conditions in Rakhine, but reviewing the military's conduct was not part of its mandate. "Entire villages were razed," said Matthew Smith, director of the group Fortify Rights. "Children were thrown into fires. Suu Kyi's denials and failure to provide a shred of moral leadership to deal with the situation is a really damning revelation of her character." Ms. Aung San Suu Kyi had said her most important goal was negotiating peace with armed ethnic groups, and in August 2017, she convened a peace conference with great fanfare to resolve the conflicts in northern Myanmar. But the meeting produced no cease-fire agreement, and analysts say there is more fighting now in that part of the country than there has been in many years.
So far Aung Suu Kyi's leadership performance has been derisive. No one expected governing to be easy for her, as country's leader. Her election had ended more than a half-century of military rule; yet the hegemony has not retrieved; and Bonapartism is galore. In pursuit of her over ambitious political objectives, she has been used and discredited by Junta. Suu Kyi had declared ending the long-running ethnic insurgencies that have torn the country apart as her top priority, but her lacklustre peace effort has proved ineffective. Ever since fighting between government forces and ethnic groups has been spiralling up. Though World has been shocked by reports that the military has carried out atrocities, including rape and murder, against the Rohingya, Aung Suu has said little on the matter and done even lesser. Her government's growing suppression of speech on the Internet seems perverse for a onetime democracy icon who spent 15 years under house arrest.
No wonders her popularity is on decline. Growth has slowed and foreign investment has dipped significantly. Suu Kyi faces daunting challenges. In rebuilding the country, she must overcome decades of mismanagement and profiteering by previous military governments that enriched the generals and their cronies and brought the economy to its knees. The biggest stain on Suu Kyi's record may be her government's brutal treatment of the Rohingya, and her tepid response to it.
But the billion dollar question is that how long the current World Political Order would take to assume ownership of Myanmar crisis? Time has already reached for declaring Rakhine as a sovereign State where Rohingyas could live peacefully and practice their religion peacefully.